The 2022 Sportsmen's Raffle has ended. Thank you to everyone for your support. Please check back in early 2023 for the 12th Annual Sportsmen's Raffle!
---
11th Annual Yaarab Sportsmen's Raffle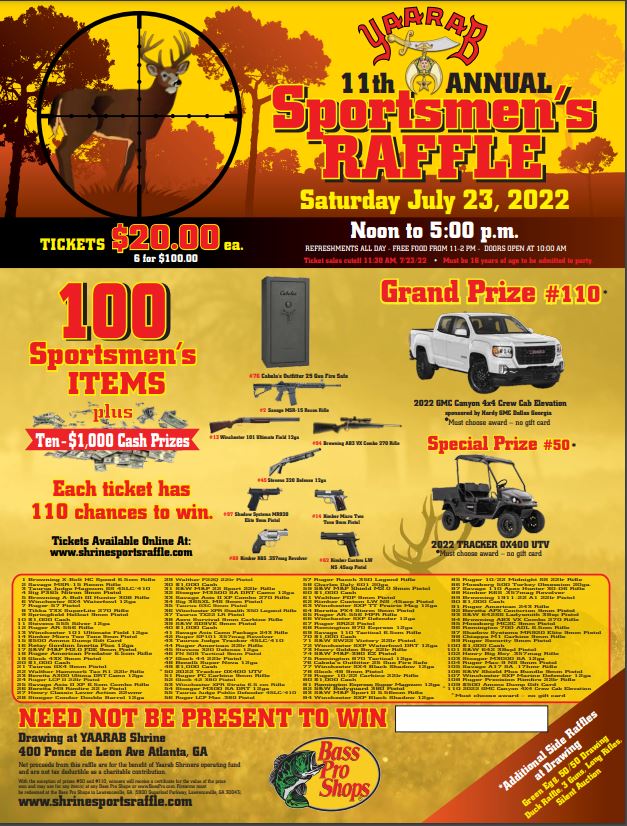 The Yaarab Shrine's 80th Annual Circus is off and running! With that in mind, one of our largest fundraisers of the year is the 11th Annual Sportsmen's Raffle.
One ticket to the raffle will get a chance at 110 different prizes. The Grand prize this year is a 2022 GMC Canyon 4×4 Crew Cab. The second grand prize is a 2022 Tracker UTV. There are 100 Sportsmen items to win that include guns, a gun safe, and ammo gift cards. There are also (10) $1,000 cash prizes. (see the list below of all prizes).
Tickets are $20 each or (6) for $100. The drawing will be held at the Yaarab Temple on July 23rd, 2022 from Noon-5PM.
If you would like to purchase a ticket from our club, we can accept cash, check, Paypal, Venmo, or Cashapp. You can email us at appshriners@gmail.com to purchase a ticket. Thank you for your support!
Prize List
1 Browning X-Bolt Max LR 6.5cm Rifle
2 Savage MSR-15 Recon Rifle
3 Taurus Judge Magnum SS 45LC/410
4 Sig P365 Nitron 9mm Pistol
5 Browning A-Bolt III Hunter 308 Rifle
6 Winchester SX4 Waterfowl 12ga
7 Ruger-57 Pistol
8 Tikka T3X Lite SS 270 Rifle
9 Springfield Hellcat 9mm Pistol
10 $1000 Cash
11 Stevens 555 Silver 12ga
12 Ruger AR-556 Rifle
13 Winchester 101 Ultimate Field 12ga
14 Kimber Micro Two Tone 9mm Pistol
15 $500 Ammo Dump Gift Card
16 Retay Gordion Inertia Plus 12ga
17 S&W M&P M2.0 FDE 9mm Pistol
18 Ruger American Predator 6.5cm Rifle
19 Glock 43X 9mm Pistol
20 $1000 Cash
21 Taurus GX4 9mm Pistol
22 Walther Hammerli Tac R1 22lr Rifle
23 Beretta A300 Outlander DRT Camo 12ga
24 Ruger LCP II 22lr Pistol
25 Savage Axis II XP 6.5cm Combo Rifle
26 Beretta M9 Rimfire 22lr Pistol
27 Henry Classic Lever Action 22wmr
28 Stoeger Uplander Double Barrel 12ga
29 Walther P22Q 22lr Pistol
30 $1000 Cash
31 S&W M&P 22 Sport 22lr Rifle
32 Stoeger M3500 SA Camo 12ga
33 Savage Engage Combo .270 Rifle
34 Sig 365XL MS 9mm Pistol
35 Taurus G3C 9mm Pistol
36 Winchester XPR Stealth 350Lgnd Rifle
37 Taurus TX22 LR Pistol
38 Aero Survivial 9mm Carbine Rifle
39 S&W SD9VE 9mm Pistol
40 $1000 Cash
41 Savage Axis Camo Package 25-06 Rifle
42 Ruger LCR 357mag Pistol
43 Taurus Judge Tracker 45LC/410
44 Ruger American 22lr Rifle
45 Stevens 320 Defense 12ga
46 FN 509 Tactical 9mm Pistol
47 Glock 44 22lr Pistol
48 Benelli Super Nova 12ga
49 $1000 Cash
50 2022 TRACKER OX400 UTV*
51 Ruger PC Carbine 9mm Rifle
52 Glock 42 380 Pistol
53 Winchester XPR Strata 6.5 cm Rifle
54 Stoeger M300 SA DRT 12ga
55 ​Taurus Judge Public Defender 45LC/410
56 Ruger LCP Max .380 Pistol
57 Ruger Ranch 350 Lgnd Rifle
58 Charles Daly 601 20ga
59 S&W M&P Shield M2.0 9mm Pistol
60 $1000 Cash
61 Walther PDP 9mm Pistol
62 ​Kimber Custom LW NS .45acp Pistol
63 Winchester SXP TT Prairie Mag 12ga
64 Beretta PX4 Storm 9mm Pistol
65 Ruger AR-556 MPR 5.56 Rifle
66 Winchester SXP Defender 12ga
67 Ruger SR22 Pistol
68 Remington 870 Express 12ga
69 Savage 110 Tactical 6.5cm Rifle
70 $1000 Cash
71 S&W SW22 Victory 22lr Pistol
72 Winchester SXP Waterfowl DRT 12ga
73 Henry Golden Boy 22lr Rifle
74 S&W M&P-380 EZ Pistol
75 Remington 870 Tactical 12ga
76 Cabela's Oufitter 25 Gun Fire Safe
77 Winchester SX4 Black Shadow 12ga
78 Glock 48 9mm Pistol
79 Ruger 10/22 Carbine 22lr Rifle
80 $1000 Cash
81 Remington Exp SMag 12ga
82 S&W Bodyguard 380 Pistol
83 S&W M&P Sport II 5.56mm Rifle
84 Winchester SXP Black Shadow 12ga
85 Ruger 10/22 Deluxe 22lr Rifle
86 Mossberg 500 Turkey Obsession 20ga.
87 Savage 110 Apex Hunter 30-06 Rifle
88 Kimber K6S .357mag Revolver
89 Browning 1911-22 A1 22lr Pistol
90 $1000 Cash
91 Ruger American 243 Rifle
92 Beretta APX Centurion 9mm Pistol
93 S&W 642SS Ladysmith 38sp Pistol
94 Browning AB3 VX Combo 270 Rifle
95 Mossberg MC2C 9mm Pistol
96 Remington 700 ADL 6.5cm Rifle
97 Shadow Systems MR920 Elite 9mm Pistol
98 Chiappa M1 Carbine 9mm Rifle
99 Ruger Security 9mm Pistol
100 $1000 Cash
101 S&W 642 38spl Pistol
102 Henry Big Boy .357mag Rifle
103 Stoeger M3000 SA 12ga
104 Ruger Max-9 NS 9mm Pistol
105 Savage A17 SA .17hmr Rifle
106 S&W Shield Plus Bundle 9mm Pistol
107 Winchester SXP Marine Defender 12ga
108 Ruger Precision Rimfire 22lr Rifle
109 $500 Ammo Dump Gift Card
110 ​2022 GMC Canyon 4X4 Crew Cab Elevation*