Meeting
The Appalachian Shrine Club meets on the second Thursday of each month. Dinner and fellowship begins at 6:30PM with the meeting beginning at 7:30PM.
---
Upcoming Events
11th Annual Sportsmen's Raffle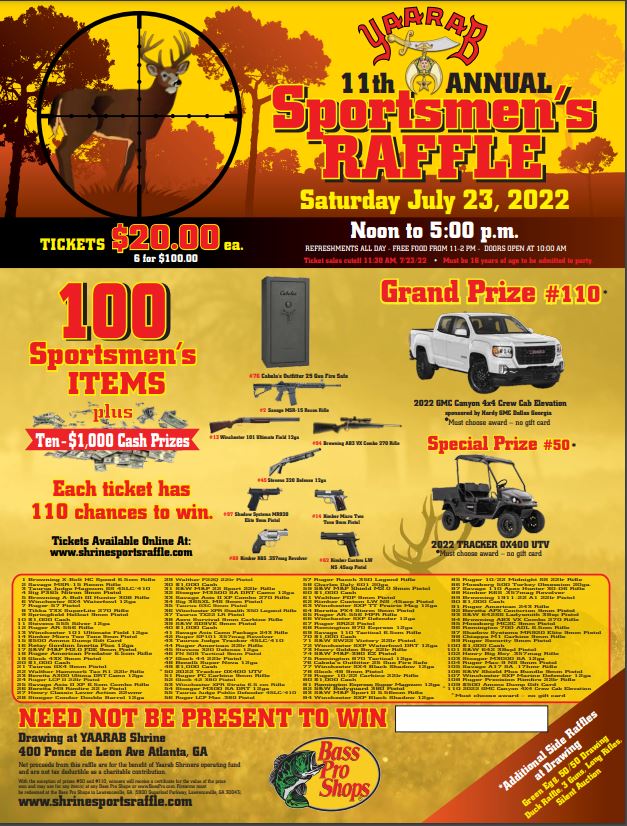 Yaarab Shrine will be holding a drawing for the 11th Annual Sportsmen's Raffle on July 23, 2022 from Noon-5:00 p.m. Tickets are $20 each or (6) for $100. Proceeds benefit the Shrine Circus Fund. Each ticket gets you 110 chances to win. Prizes include guns, ammunition, a gun safe, and (10) $1,000 cash prizes. There are two Grand Prizes: a 2022 GMC Canyon 4×4 crew cab pickup truck and a 2022 Tracker UTV. For a complete list of prizes, click here.
Past Events
30 Guns in 30 Days Raffle!
The drawing for this raffle took place in October. The list of winners were posted to our homepage/Facebook page daily. You can view a list of the winners here. Thank you to everyone who supported this great fundraiser. If you missed out on purchasing raffle tickets this year, check back with us for next year's 30 Guns in 30 Days raffle.